Off Road Adventure Tour
from Tbilisi to Kazbegi

One-day tour to Ananuri and Kazbegi with the itinerary from the capital city Tbilisi to the snow-capped peak of the Mount Kazbek will open up an enchanting Georgia. On the way there, you will visit a bewitching Ananuri complex located at the quiet waters of the Jinvali Lake, see the beauty of mountainous rivers and gorges of Kazbek, and enjoy the tranquility in the Gergeti church, which is the final destination of the journey. There you will get an amazing view on the village of Kazbegi and grand Mount Kazbek.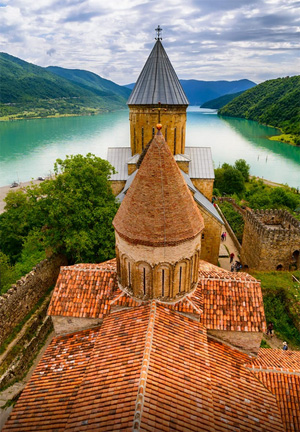 Tbilisi – Ananuri – Caucasus - Kazbegi – Tbilisi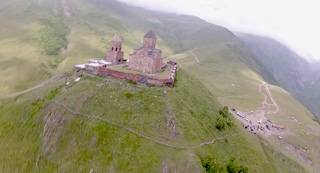 At 10 am, our driver and guide will pick you up at your hotel in Tbilisi. The route will take over the Georgian Military Highway up North towards the border with Russia. Your first stop will be at Ananuri complex, a former residence of Argveti Dukes. Complex featuring churches and towers dating back to the XVI-XVII cc. is beautifully overlooking Jinvali reservoir. Continue our drive to see the conjunction of two small mountain rivers famous for the fact that being different in color they still keep their own colors even after merge.
Near 12 pm you'll meet with your offroaders and join to 4x4 jeep tour to the snow in Caucasus mountains near 3000m above sea level.

We will then drive over the Cross pass and make a short stop at Soviet time "People's Friendship" mountain view point overlooking a deep gorge of Caucasus mountain range. In Kazbegi you will enjoy breathtaking views of Mt Kazbegi. Drive back to Tbilisi. Drop-off at your hotel.
Duration: 8-10 hours