Rafting in Kazbegi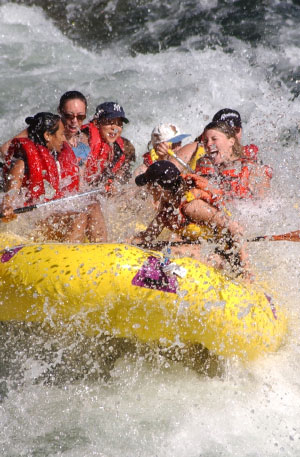 We offer rafting tours in Kazbegi. It's possible every day from 1 person.
Rafting or white water rafting is the challenging recreational outdoor activity of using an inflatable raft to navigate a river or other bodies of water. This is often done on white water or different degrees of rough water, in order to thrill and excite the raft passengers. The development of this activity as a leisure sport has become popular since the mid-1970s, evolving from individuals paddling 10 feet (3.0 m) rafts with double-bladed paddles to multi-person rafts propelled by single-bladed paddles and steered by a tour guide at the stern. It is considered an extreme sport.
Our trip will start near Juta, 10km from Kazbegi, 20-30 min briefing with instructors, and after you'll dress equipment we'll enjoy to trip!
You'll try rafting on Sno river with grade level 2-3.
Trip includes:
Free drink after the trip;
Professional rafting guide, neoprene suit, neoprene jacket, shoes, helmet, plus all equipment necessary for a fun and safe trip.
Photo and video of your trip;
Extra info:
Minimum age is 14 years;
You will need a swim suit, towel and dry clothes for changing afterwards;
You will need to be able to swim in safe jacket;

Contact phone: +995 595 983 738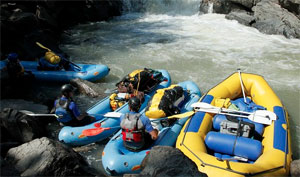 You can pay using Visa and Mastercard after finish.
Otherwise known as the International Scale of River Difficulty, below are the six grades of difficulty in white water rafting. They range from simple to very dangerous and potential death or serious injuries.
Grade 1: Very small rough areas, might require slight maneuvering. (Skill level: very basic)
Grade 2: Some rough water, maybe some rocks, might require some maneuvering. (Skill level: basic paddling skill)
Grade 3: Whitewater, small waves, maybe a small drop, but no considerable danger. May require significant maneuvering. (Skill level: experienced paddling skills)
Grade 4: Whitewater, medium waves, maybe rocks, maybe a considerable drop, sharp maneuvers may be needed. (Skill level: whitewater experience)

Grade 5: Whitewater, large waves, large volume, possibility of large rocks and hazards, possibility of a large drop, requires precise maneuvering. (Skill level: advanced whitewater experience)
Grade 6: Class 6 rapids are considered to be so dangerous that they are effectively unnavigable on a reliably safe basis. Rafters can expect to encounter substantial whitewater, huge waves, huge rocks and hazards, and/or substantial drops that will impart severe impacts beyond the structural capacities and impact ratings of almost all rafting equipment. Traversing a Class 6 rapid has a dramatically increased likelihood of ending in serious injury or death compared to lesser classes. (Skill level: successful completion of a Class 6 rapid without serious injury or death is widely considered to be a matter of great luck or extreme skill and is considered by some as a suicidal venture).