Paragliding Adventure Tour
from Tbilisi to Kazbegi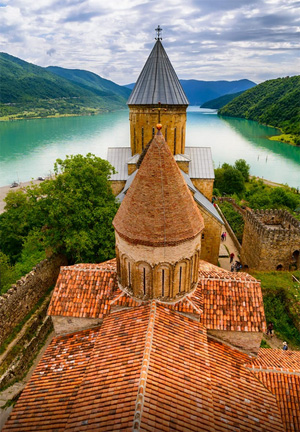 One-day tour to Ananuri and Kazbegi with the itinerary from the capital city Tbilisi to the snow-capped peak of the Mount Kazbek will open up an enchanting Georgia. On the way there, you will visit a bewitching Ananuri complex located at the quiet waters of the Jinvali Lake, see the beauty of mountainous rivers and gorges of Kazbek, and enjoy the tranquility in the Gergeti church, which is the final destination of the journey. There you will get an amazing view on the village of Kazbegi and grand Mount Kazbek.
Tbilisi – Ananuri – Kazbegi – Tbilisi
At 09:00, our driver and guide will pick you up at your hotel in Tbilisi. The route will take over the Georgian Military Highway up North towards the border with Russia. Your first stop will be at Ananuri complex, a former residence of Argveti Dukes. Complex featuring churches and towers dating back to the XVI-XVII cc. is beautifully overlooking Jinvali reservoir. Continue our drive to see the conjunction of two small mountain rivers famous for the fact that being different in color they still keep their own colors even after merge. We will then drive over the Cross pass and make a short stop at Soviet time "People's Friendship" mountain view point overlooking a deep gorge of Caucasus mountain range. In Kazbegi you will enjoy breathtaking views of Mt Kazbegi. Drive back to Tbilisi. Drop-off at your hotel.
Duration: 8-10 hours
Highest takeoff trip
So what happens when you order the paragliding with off-road tour in Fly Caucasus Company?
You get into a jeep and go into the mountains. The dray road, high-grade climb and a feeling of inability of actions make the trip really unforgettable. But that's all the moonshine in comparison with the unreal beauty of the Caucasus Mountain Range! You just want to get out of a car immediately and take a photo.

But the car is going on and you realize that the real emotions are onward. When the lifting ends and you get into the meadow, it seems to you that it is the end of your trip. It's not like that. The way over hill and dale is not at hand. As a result, finally reaching the top, you understand that off-road driving is "not for whimps" entertainment.

During you look around, the pilot has already broken out a paraglider. He is ready for take-off. It becomes clear do you know how to run well. To fly with a paraglider, you need to take a few meters of the accelerating run. You run and fly up toward the clouds. The description of the flight is useless. The delight is impossible to describe. You see an amazing beauty of the mountains that sprawling all over you.

If you have the courage to look down, you can see some tiny houses, cars and sheep. At this point you realize that life is beautiful!
So, if you want thrills, lively emotions and crazy photos, off-road tour with Fly Caucasus - is what you need. And do not forget to dress warmly – it is chilly in the mountains.
Paragliding for 1-4 persons per time;
4x4 Off-Road trip: start from 1900m above sea level and ride to 2800-3000m for paragliding takeoff;
Ride distance near 10 km, real mountain road with stones, slopes, duty and better high point view;
Cross Country 5-10 km paragliding flight from most safe takeoff, up to 20-40 min in air!
Personal pickup from hotel in Gudauri or from Meet Point in Gudauri for FREE;
Video included for FREE on memory card;
Total trip duration 2-2.5 hours;
Retail price: 170 USD (499 GEL) per person, up to 4 people per time only.

Book today and join tomorrow!
| | | |
| --- | --- | --- |
| 1. Calculate cost | 2. Booking | 3. Payment |