Paragliding in Georgia
with instructor
We do custom and creative paragliding year round using any weather, different locations between Tbilisi to Kazbegi depending on conditions and your booking requests.
We do high quality VIP service flights and that's why we offer not cheap prices. We accept online bookings on our website only.
We have different fly time and types of flights there. You can choose the best option for you on the website. All offers are for first time experience.
You have to understand that paragliding is an extreme sport. The weather conditions are crucial for this sport.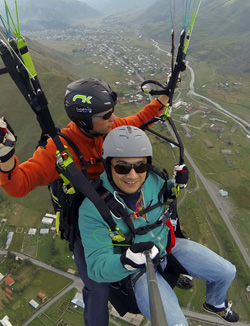 We do it in Gudauri from 1999 and have huge experience of paragliding in local weather conditions (year round). Also we are the only company who has its own devices and equipment for monitoring weather in Gudauri. This all allow us to choose the best and safetest time for your first paragliding experience.
There also might be a shift of your paragliding time from morning to evening or vice versa due to safety issues. It perfectly fits to one-day tours to Kazbegi that we provide via advance booking and coordinate on our own. It allows us to use your time efficeintly and make sure that you have the maximum of your tour and flight.
For all the reasons above we ask you to book paragliding on our website in advance. Online booking is a guarantee of your safe and pleasant vacation in Georgia.
We offer
Full english language supporting - from booking till pickup and driving;
Personal pickup from your hotel in Tbilisi, Gudauri or Kazbegi;
Flexible timing;
Flight spot depends on better weather;
VIP quality of service.